I enjoy robots so of course D-O [1] can't be missed from my LEGO Star-Wars sets. It will look nice next to R2-D2 [2] and BB-8 [3].
History of D-O
D-O was a droid that was once owned by the Sith assassin Ochi of Bestoon. The droid was created by a droidsmith, who was killed by Ochi. The droid was reactivated by BB-8 in 35 ABY, on Pasaana, and later brought along to Kijimi, where he was further repaired by Rey. An excitable little droid, D-O befriended the Resistance droid, and wanted to be just like his droid friend [4].
LEGO set details:
Year released
2020
Recommended age
10+
Box dimensions
26 x 38 x 7 cm
10.2 x 14.9 x 2.7 in
Weight
702 g
24.7 oz
Number of books
1
Number of sticker-sheets
1
Number of parts
518
Number of minifigs
1
Finished dimensions
15.5 x 27 x 10 cm
6.1 x 10.6 x 3.9 in
12.6 x 5.8 x 2.5 cm (Plaque)
5 x 2.3 x 1 in (Plaque)
Building the kit
Building the first bag goes smoothly and is easy to do. The only tricky things is when to put the 'stoppers' on the end of the rubber tubes. Since it is a tight fit it takes a bit of fiddling to get it in, but there is enough slack to have a good hold on it. When attaching the 'tyre' around you do need to make sure they are evenly spaced else it will be difficult to bend it properly to fix them at the bottom.
The second bag creates the outsides of the wheel which is a nice easy task.
On the third bag you have again a little tube where you have to insert some end points, which is similar is to the tubes in the first bag. Again it is a bit fiddly to push in.
The fourth and last bag is the head and plaque. This again isn't difficult to build together and finish the build.
In my opinion D-O is an nice cute addition to the LEGO Star-Wars universe. A nice build and looks pretty authentic.
---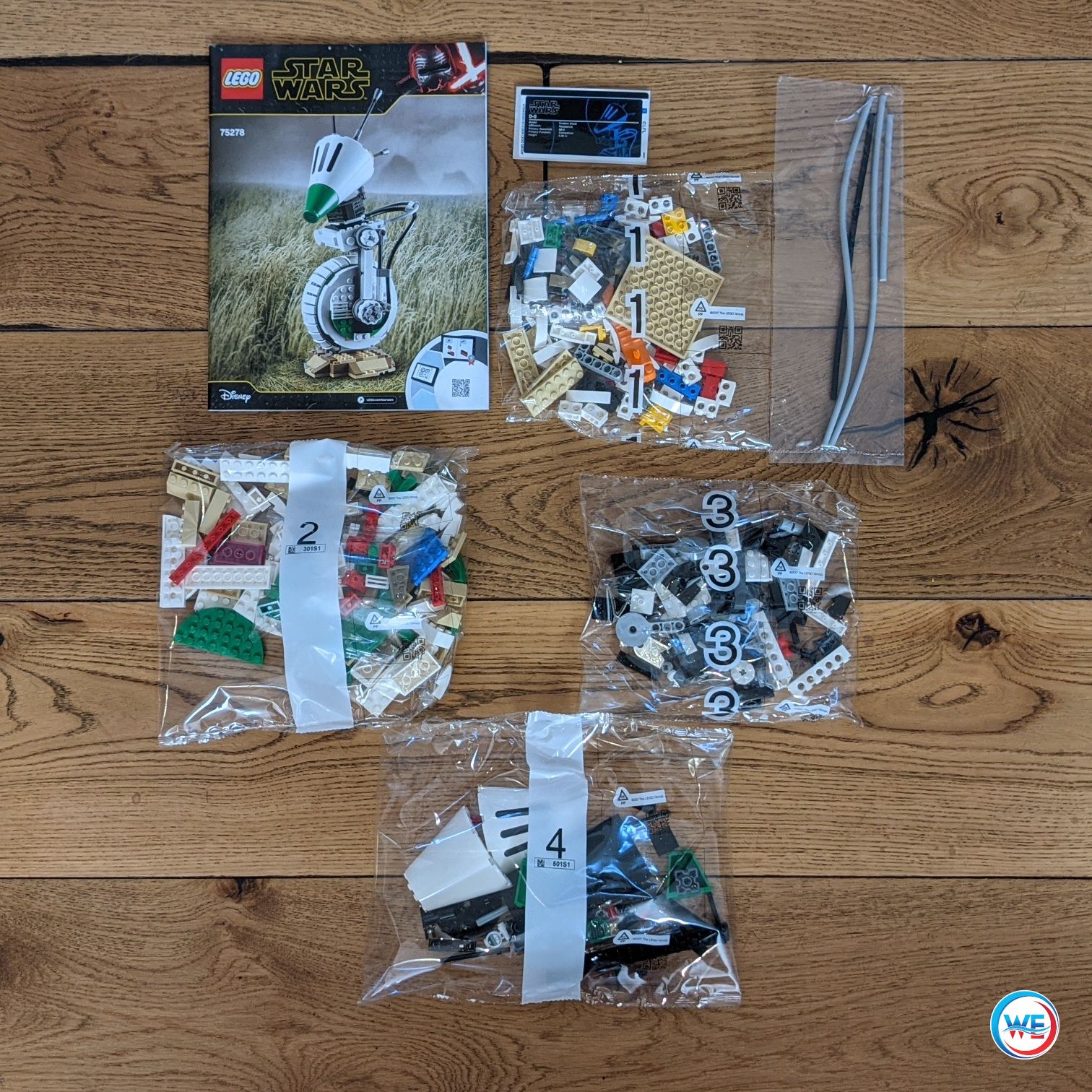 Interactive parts
There are a few interactive bits with this kit:
Tilt the head
The head can be tilted by rotating the bottom white/grey round knob on the left side.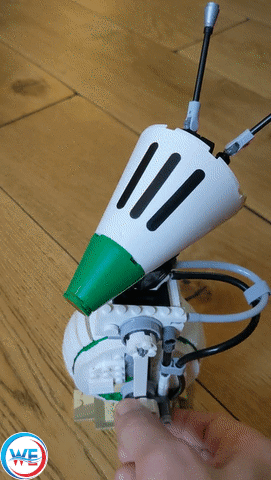 Rotate the head
You can rotate the head by rotating the top white round knob on the left side.