Motion sensors are helpful when you want to register if somebody is entering a room. The problem with them is that when there is no move, for example you are watching TV, it won't register it anymore and that means that it looks like nobody is there. Aqara has solved this problem with there FP1 Human Presence Sensor.
At this moment it is only for sale in China, and can be found, for example on AliExpress (No affiliation).
Box Content
The box contains:
FP1 Sensor
metal plate + sticky pad (for mounting the FP1 on walls or ceilings)
1A USB power plug (with US pins)
Manual (in Chinese)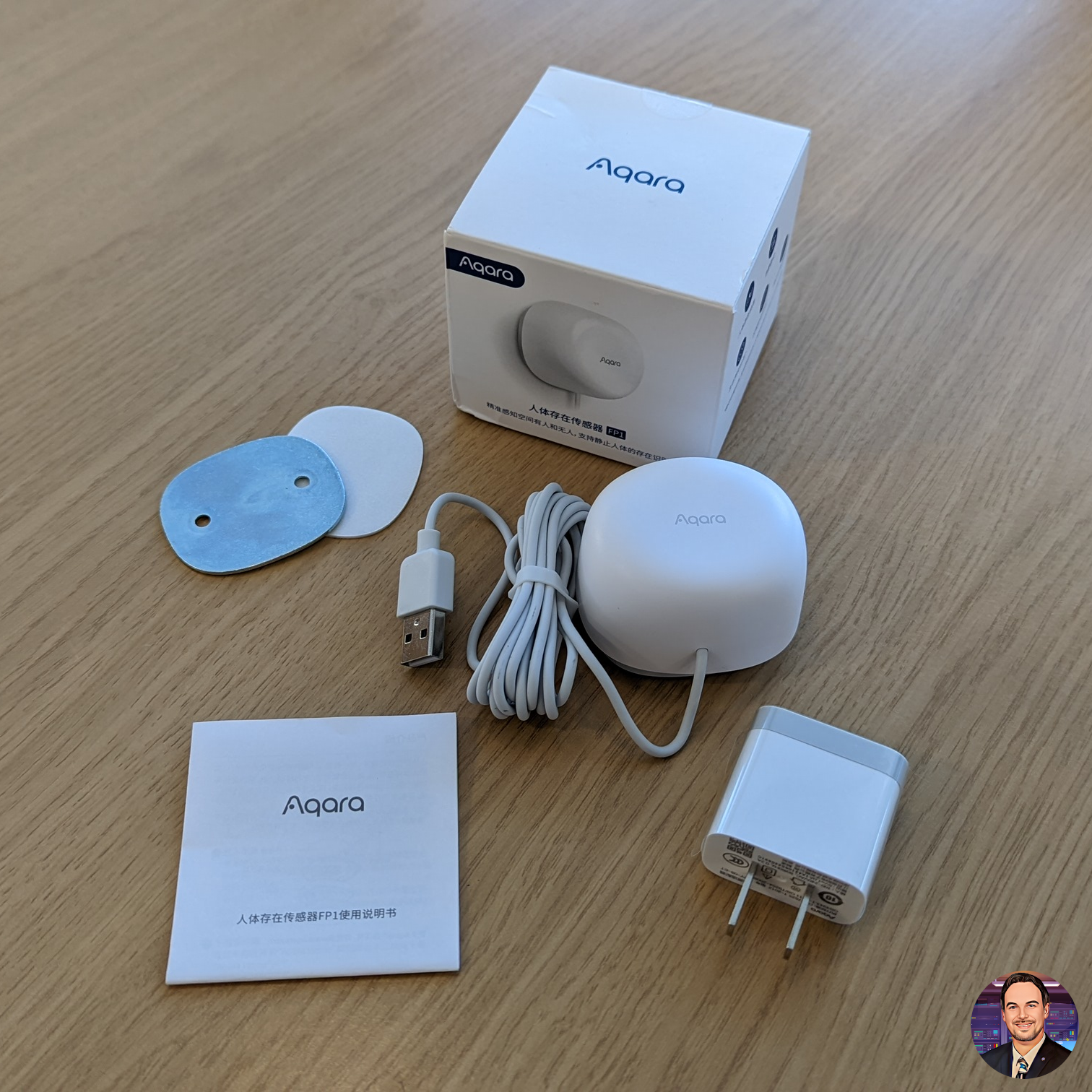 Specifications
Dimensions
Closed: 5.2 x 4.5 x 3.6 cm
Extended: 5.2 x 4.0 x 6.0 cm
Power
Connection: USB A
Cable Length: 2 meter
Voltage: 5 V (DC)
Current: 0.1 A (Measured)
Communication
Zigbee 3.0
Sensor
Frequency: 60Ghz
Field Of View: 120 Degrees
Distance: 5 meter
Montage
Magnet on base
USB Charger
Voltage: 5V (DC)
Current: 1 A
Mounting
The FP1 has a magnetic base which can be stuck on a metal (not aluminium) surface. Else the provided metal plate and double sided sticky pad can be used to mount it on a none metal surface.
Positioning
The FP1 has a swing-arm so the orientation can be changed to point in the correct direction.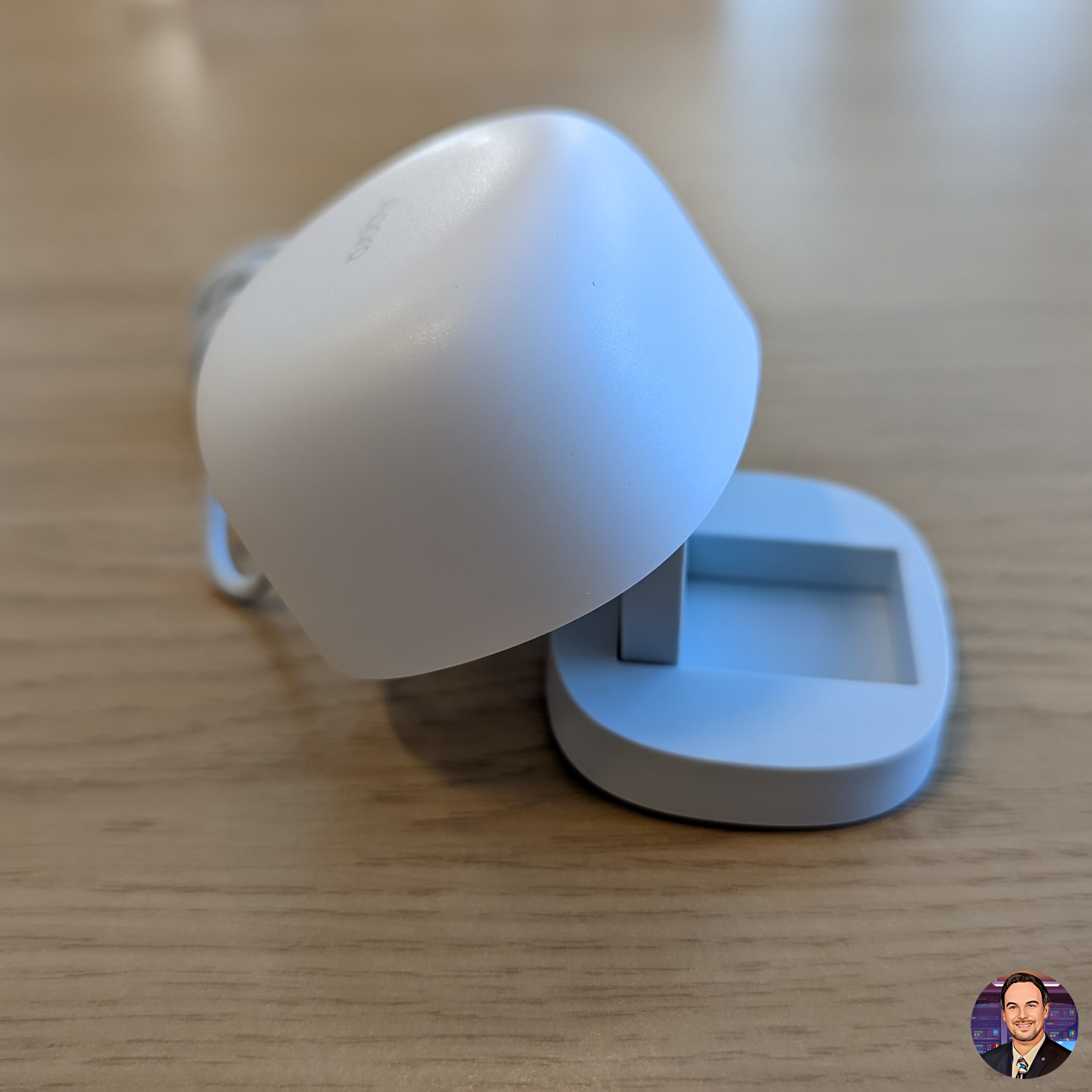 The swing arm is connected to the FP1 to a swivel ring, making it possible to rotate the FP1 when required.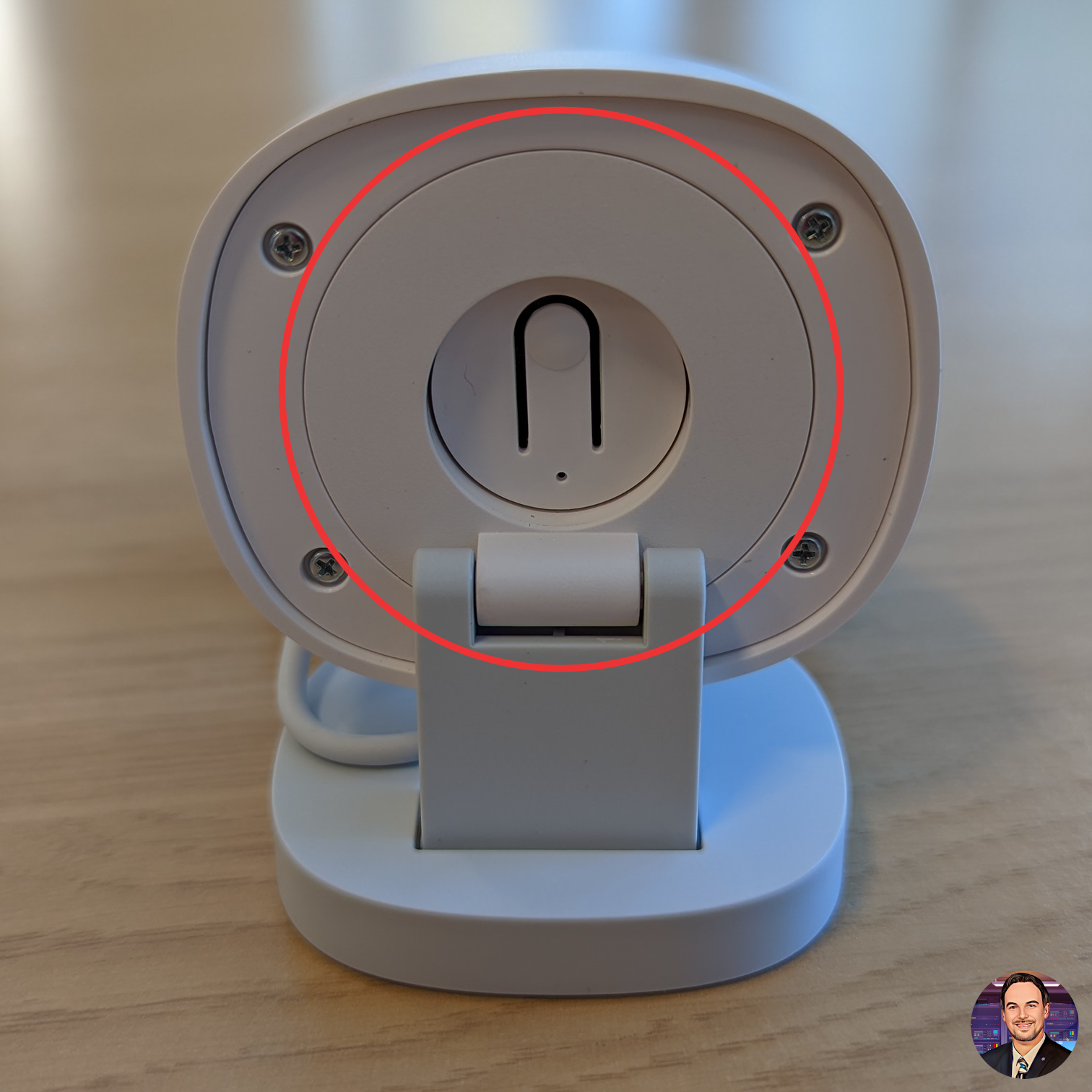 Pairing
Press and hold the reset button on the device for +- 5 seconds (until the blue light starts blinking). After this the device will automatically join. If this doesn't work, try with a single short button press.
In the picture below it shows the button at the top, and the blue LED at the bottom.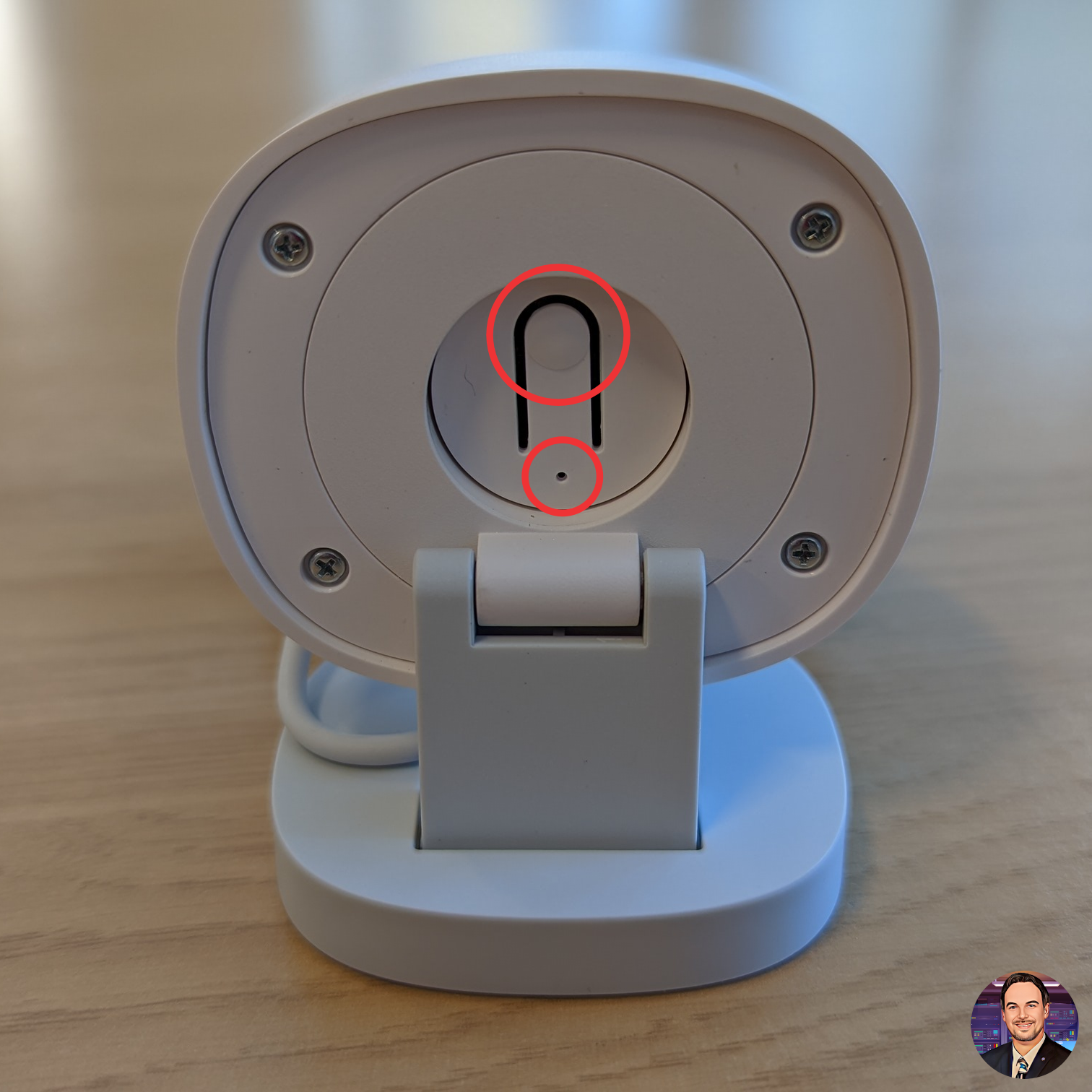 Smart Home Integration
Aqara app
The FP1 can be connected to the Aqara HUB M2 using the Aqara app. Using the app you have the following features:
Regions
Motion sensitivity
Monitoring mode
Approaching induction distance
Regions
With the regions you can split the field of view into seperate parts, each which then can be used for different automations.
Motion sensitivity
Depending how much motion you want to register (and also if there are animals in the house) you can change the sensitivity.
Monitoring mode
With the monitoring mode you can choose between:
Undirected monitoring
Left/Right monitoring
The difference is that with the left/right mode you can also automate it in a way the person is walking (coming from left or right), else the default undirected monitoring will do.
Approaching induction distance
This setting is to set at what distance (near, medium or far) it should monitor for presence.
Homekit
If you are a Apple Homekit user, the FP1 does work with Homekit when connected to the Aqara Hub M2 and will show up as an occupancy sensor for you to use.
Unfortunately it isn't possible to adjust any of the settings such as sensitivity through Homekit, but since you would need the Aqara Hub M2 anyway, you could easily change the settings through the Aqara app.
Home Assistant
The FP1 connects easily to Home Assistant using Zigbee2MQTT. There is a requirement that the Zigbee adapter has one of the following firmwares:
| | |
| --- | --- |
| Zigbee Chip | Firmware version |
| CC2530/CC2531 | 20211115 |
| CC1352/CC2652 | 20211114 |
| CC2538 | 20211222 |
| Conbee II | 0x26720700 |
NOTE:
It seems users have problems with using Zigbee channel 22. It seems the FP1 then doesn't want to register.
Once connected to Home Assistant you have the following features:
Motion sensitivity
Monitoring mode
Approaching induction distance
Device temperature
Unfortunately at this moment in time there is no support for regions via Zigbee2MQTT, but you do get the device temperature sensor.
Through Zigbee2MQTT Over-The-Air upgrade is supported.
For more information about the exposed entities you can go to the Zigbee2MQTT page.
Performance
I placed the sensor in our living room as that is typically where we have problems with motion sensors because we are watching TV and so not much movement involved there. It means its also where I have to have the timeout for lights set much higher otherwise they will continuously turn off all the time when we are in the room.
I placed the FP1 over in the corner, and I set the timeout for my lights down to 5 minute, meaning that if the FP1 detected no one was in the room for 300 seconds, all of the lights would turn off immediately.
To my surprise, it never triggered falsely even once. I could have easily set this down to 1 second and it still would have never turned off when we were in the room - it really was that good at detection!
We sat in the room for around 2 or 3 hours at a time and not once did it falsely think we had left. Then, when we did both get up and leave for a minute, it would recognise that right away and turn the lights off.
Detection Speed
When you exist a room, the FP1 takes around 10 seconds for it to change from occupied to not occupied - that is plenty fast enough for leaving a room.
However, entering a room is a different story. I will straight up tell you that these just aren't quick enough to be used for entering a room - they take roughly about 5 seconds to detect when a person is in the room which is obviously nowhere near fast enough to be used for turning lights on.
I think that's because it's doing some sort of local processing to accurately determine if it is a person or not and while it obviously it does that very well, clearly the speed is a trade off.
I'd probably recommend pairing these with a motion sensor to have your lights turn on when triggered by the motion sensor so it's as fast as possible, but have the FP1 turn them off when the room is unoccupied.
Minor problems
In my option it is a nice piece of equipment but there are a few drawbacks.
Availability
At this moment in time the FP1 is only available in China. Aqara is currently evaluating if the FP1 should be more available outside of China. In my opinion they would fill a big gap for home automation people if they would.
Power
The FP1 can only be powered via USB and has no possibility for battery power, this makes it more difficult where to position it where there is a means of providing a USB port.
Also having the USB cable attached to the FP1, with only a length of 2 meter, doesn't help either. It would be better if the USB cable was separate that if required you can replace it with a longer one.
Zigbee router
Since the FP1 is 'mains' powered via USB one could expect it to work as a Zigbee router, but unfortunately it doesn't. It is recognised as a end-device.
Number of people
The FP1 is good at detection that somebody is in the room, but can't provide information about how many people are in the room. Although this isn't a problem to have automations controling lights. For that purpose it doesn't matter if there is 1 or 3 people in the room.